This project is perfect for using some of those decorator fabric scraps you have that aren't quite enough to do much with, each on it's own.
I have a 14″ x 36″ lumbar pillow with a lovely neutral cover, but wanted to make it a little livelier for a guest room.  After painting two nightstands turquoise that had belonged to my grandmother, I felt inspired!   So, I gathered some fabric scraps together and got to work.
After I chose my center fabric I began to lay a variety of fabrics in different widths on both sides of the center.  Once I was happy with the layout I was ready to sew!
I'll use my fabrics (pictured)  to explain the assembly process.  My yellow bird fabric is the center, and to that I sewed narrow pieces of orange stripes on either side.  Next, I sewed the green onto the orange stripe, and then, the blue chevron onto the green.  Pressed all seams.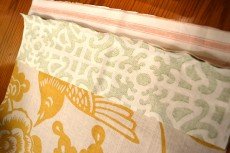 Now I cut my back of the pillow sleeve from a natural linen, and it was the same size as the pieced front. (approx. 14 1/2″ x 36 1/2″).  Lay front onto back with right sides facing each other.  Sew along the 2 long sides (top and bottom of cover).
To finish the open ends of the cover I used the yellow bird fabric to make a 3″ wide facing.
I also made 4 ties out of the linen to close the ends.  Each one was cut approx. 8″ x 4 1/2″, folded with right sides facing, stitched across one short side and down one long side, backstitched, turned right side out, and pressed.  These ties were inserted between the pillow front and back and the facing, 2 ties centered on each end and pinned in place.
Then I sewed around the open end of the cover and facing, hemmed the raw edge of the facing, turned facing to the inside of pillow, and pressed.  Top stitch close to edge.  Pull sleeve over pillow and tie ends together!