We did it…the nursery is ready for Baby Bear!  The process was tons of fun and hard work, but it was worth it!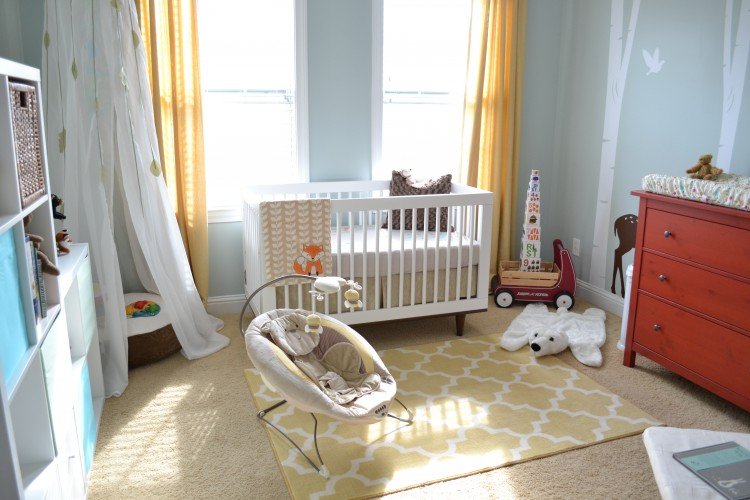 From the start Melissa and Brian had a vision for transforming their guest room into a nursery suite brimming with eclectic charm. Their color choice for the walls set a calm, peaceful, and fresh tone in the space.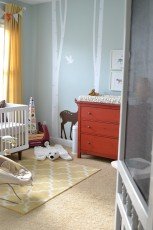 With pet cats in the house, we wanted to be able to keep them out of the nursery without having to close the bedroom door. A decorative screen door was the perfect solution!  The original bedroom door was removed and the screen door was added.  It works perfectly! So far no kitties have tried to climb the screen.
The crib, dresser, and bookcases have a combination of finishes, yet their similar lines make them work together.
Melissa had her eye on the simple wall decals on Etsy for months. The white trees are so subtle but really give the room character, as do the little deer.
The artwork above the chest/changing table were created by Melissa and placed in frames from IKEA. Some of the accessories are home sewing projects, thrift store finds, and new purchases.
Baby Bear can make his entrance anytime and bring his nursery to life!
Resources:
Paint – Nursery: Sherwin-Williams Rainwashed SW6211
En suite Paint: Window Pane SW6210
Crib – Baby Mod Marley 3 in 1, Walmart.com
Dresser – Hemnes 3 drawer chest, IKEA
Bookcases – Kallax, IKEA
Rug – Threshold Fretwork, Target.com
Glider – Wayfair.com
Wall Decals – Wall Consilia, Etsy.com
Curtain Panels – Lenda, IKEA
Pennant Banner – Sewn by Debbie
Lamp – Boja, IKEA
Pendant Lamp – Fillsta, IKEA
World map – Cavallini World map 4, Papersource.com
Drawer Dividers – Beckis, IKEA