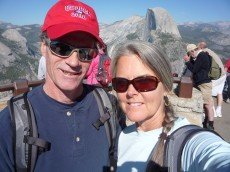 Hi, my name is Debbie!  Although my family has deep southern roots, I grew up an "Army brat" which opened this wide world up for me!  For that I am grateful and wouldn't change a thing!
My husband, Kev, and I are empty nesters, and we stay busy with DIYs, visiting our grown kids and precious grandson, traveling and hiking!  I'm big on recycling, love nature, and do my part to save our planet!
I have an undeniable love for creating.  Whether it's decorating my home, a sewing project, cooking and baking, experimenting with my camera, scrapbooking …I could keep going…I can't seem to get enough!  Hopefully you will find enjoyment and inspiration here and will visit my blog often!