There's a cookbook that has been in just about every kitchen in my family for nearly four decades!  All of us go to it time and again for great dishes for our little family meals, family gatherings, holidays, potlucks,  and friends in need.  It's called Pines and Plantations ~ Native recipes from Thomasville, Georgia.  Thomasville is my dad's hometown, and it's a very special place in so many ways!
So, it wasn't unusual when I got out my Pines and Plantations the other day to make something tasty for dinner.  In the very back of the book I have written down recipes we liked a lot as a quick reminder.  One that stood out that afternoon was Chicken and Wild Rice Casserole!  I would like to share the recipe with you.  You may notice I have altered it ever so slightly.  It makes a 4-qt casserole.  The great thing about it is you can divide it up and freeze it!  Hope you give it a try!  Oh!  I almost forgot the Savannah Rolls!  Made those, too!  Yum!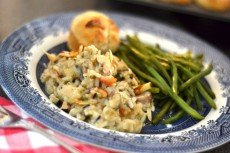 Chicken and Wild Rice Casserole
1 cup wild rice
1/2 cup onion, chopped
1/2 cup butter
1/4 cup flour
1 – 6oz. can sliced mushrooms
Chicken broth
1 – 1/2 cups skim milk
3 cups cooked chicken, diced
1 T.  pimento, diced
2 T. parsley, snipped
salt to taste
1/4 t. pepper
1/2 cup sliced almonds
Cook the rice (Uncle Ben's long grain and wild rice with herb seasoning may be substituted—this is what I do, and I use 2 packages), and set it aside when done.  Melt butter in a very large pan or Dutch oven;  add onion and cook until tender, but don't brown.  Remove from heat; stir in flour.  Drain liquid from mushrooms into a 2 cup measuring cup.  To this liquid add enough chicken broth to measure 1 – 1/2 cups total;  slowly stir into flour mixture.  Add milk and cook, stirring constantly until mixture thickens.  Now, add the rice, mushrooms, chicken, pimento, parsley, and pepper.  This is the time to taste and see if you want to add salt.  I do not add it.  Combine.  Grease a 4 qt casserole and pour mixture into dish.  Sprinkle with almonds.  Bake at 350 degrees for 30 minutes or until bubbly.  OR you can divide into smaller dishes; cover and freeze until needed.
Savannah Rolls
3 1/2 cups Bisquick
3 T. sugar
1 -12ounce beer
Mix ingredients well and spoon into greased muffin tin.  Bake at 400 degrees for about 15 – 18 minutes.  Makes 18 rolls.