Having deep Southern roots means there's really only one way to bring in the New Year!  It's with the traditional meal of black-eyed peas, greens, rice, and pork to ensure good luck in the year ahead.  From what I understand, this tradition dates back to the Civil War.
This year I'm trying something for the first time!  Rather than cooking a separate pot of each dish, it's all going in the crock pot over night with the exception of the rice.  I'll also bake a skillet of cornbread right before we eat!
**Note** cooked this last night, all night long, and it is delicious and oh so easy!  Let your ham rest for about 15 minutes before slicing…it's very moist and tender.
Here's the recipe from Southern Living November 2012.
Good Luck Greens and Peas with Ham
1 – 32oz. carton of vegetable broth
1 – 16oz. package frozen black-eyed peas
1 sweet onion, cut into eighths
1/4 cup apple cider vinegar
1/4 teaspoon red pepper flakes
2 tablespoons dark brown sugar
2 tablespoons Dijon mustard
1 – 5 to 6 lb. fully cooked semi boneless ham
1 – 1lb. package chopped fresh collard greens
Place first 5 ingredients in a 6qt. slow cooker.  Stir together brown sugar and mustard; rub mixture over ham.  Place ham in slow cooker. Add chopped greens.  I had to pretty much stuff the greens around the sides of the ham.  In the morning I pushed the greens further into the pot likker.  Cover and cook on HIGH for 6 to 7 hours.
Slice ham and serve peas and greens over rice.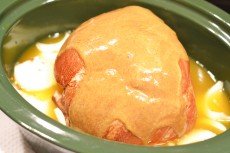 Skillet Cornbread
2 to 3 tablespoons vegetable oil (or bacon drippings)
2 cups buttermilk
1 large egg
1 3/4 cups white cornmeal
1 teaspoon baking powder
1 teaspoon baking soda
1  teaspoon salt
Butter
Coat bottom and sides of a 10 inch cast-iron skillet with oil.  Heat in a 450 degree oven for 10 minutes.
Whisk together buttermilk and egg.  Add cornmeal, stirring well.
Stir in baking powder, baking soda, and salt.  Pour batter into hot skillet.
Bake at 450 degrees for 15 minutes.  Serve with butter.
Good Luck in the New Year to you and yours!