Like most, we use our family room more than any room in our house!  Ours is in need of some sprucing up, and I have some ideas I've been pushing around for a while.  It's time to stop thinking about it, and make it happen!  (First thing we did was replace the carpet with wood floors which was a huge improvement!)  Now we are on a roll!
 Part  1:  Mantel Makeover
When we bought our house 15 years ago it had the traditional white mantel surrounded by brick.  Well, about 10 years ago I got the idea to paint it black, the mantel that is, and I was happy with it at the time.  But as the years went by, I was ready for a new look….something bold!  Now generally I am a "safe" person, not likely to leave my comfort zone.  So when I told my husband I had chosen turquoise for our mantel… well, let's just say he didn't believe me!
We rolled up our sleeves and got started with my brothers help!  Here is the black mantel with natural brick.  The chair rail has been removed on either side to accommodate book cases.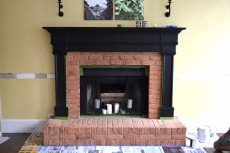 After sealing it 2 times with Kilz oil-base primer, we painted the brick white with an interior semi-gloss enamel.  I just matched the white trim used in the room.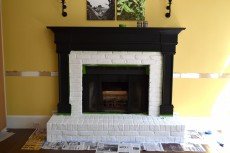 Here's the paint chip with the colors I chose:  Gem Turquoise and Peacock Feather.  Bought a quart of each in semi-gloss.    We also bought a sample/tester container of barn red.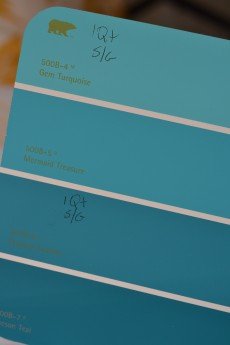 First I sanded the mantel fairly well, but it was still black with the exception of some white that came through.  Then I painted random wide streaks of the barn red from the sample can.  Sorry I don't have a picture of this step.  The purpose of this was to have little bits of red come through during the final sanding process.  After the red dried, on went the Gem Turquoise.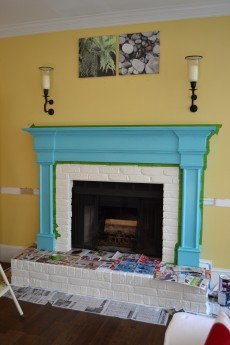 Next was to paint over the Gem Turquoise with Peacock Feather.  I allowed these coats of paint to dry overnight.  The following day I sanded the entire mantel, more so in places to bring out the lighter turquoise, red, black, and the original white.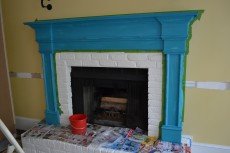 Using faux finishing glaze mixed with medium brown paint (3 parts glaze to 1 part paint… play with it), I painted over the sanded mantel, wiping excess glaze off with a clean rag as I went.  The glaze settles in corners, etc. and helps to tone down the colors and give the piece an aged look.
The Billy bookcases from IKEA are just as I hoped!   So far I love the results, and am glad I stepped out of my comfort zone!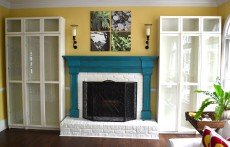 Now I have some sewing to do!  Can't wait to show you what I come up with!!