Every fall I get the urge to bake these cookies!  Guess it's all the butter, brown sugar and walnut goodness mixed up in them!  Maybe even the name "frosties" figures into it… who knows!  One thing I do know is these soft cookies are simply yummy!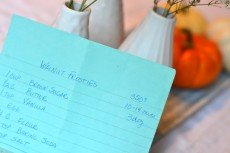 Walnut Frosties
Preheat oven to 350 degrees.
In a medium bowl add:
1 cup light brown sugar, packed
½ cup butter, softened
1 teaspoon vanilla
1 egg
Beat together and add:
1 ¾ cups all-purpose flour
½ teaspoon baking soda
¼ teaspoon salt
Blend together.
Filling:
1 cup chopped walnuts
½ cup brown sugar
¼ cup sour cream
Mix together with a spoon.
Roll cookie dough into balls; place on cookie sheet about 3" apart; slightly press down with fingers, and then press thumb in center creating a little well for the filling.  Fill the center with the walnut mixture.  Bake for 12 – 14 minutes.  Makes 2 to 3 dozen cookies, depending on size you desire.