It's a rainy, baking kind of day here today. So, I'm going for rum cake!
It's super simple and great for the holidays! I like to bake mine in a cookie tin!  The cake remains in the tin after baking and glazing, so storing it is a snap and a little different in a fun way!
All that being said, the cake can be baked in a bundt pan as well. I would recommend a non-stick bundt pan, greased and floured.  If it's a dark coated pan, bake it at 325 degrees.  You guessed right… This cake would be turned onto a cake plate. 😀
Let's get baking!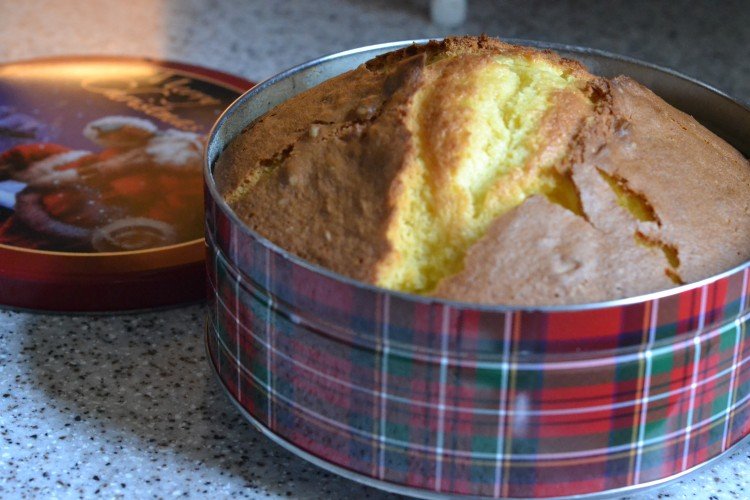 Rum Cake
Preheat oven to 350 degrees
Cake:
1 Butter cake mix
1 small box of instant vanilla pudding (4 serving size)
4 eggs
1 cup water
2 tablespoons dark rum
1/2 cup vegetable or canola oil
*Grease and lightly flour a cookie tin and set aside. My tin is 8″diameter and 3″ high.
*Mix cake mix, pudding mix and oil
*Add eggs one at a time
*Add water and rum
Pour batter into prepared cookie tin. Bake approx. 45-60 mins. Cake is done if it spring back when you touch it in the center.
Glaze:
1 stick butter
1 cup sugar
1/3 cup water
2 tablespoons dark rum
*Melt butter and sugar in a saucepan
*Add water and rum and bring to a boil
*Poke holes in cake and loosen sides of cake away from tin.  (This way the glaze will seep down the sides of cake as well as the top.)
*Pour glaze over warm cake
*Cool before serving
Don't remove cake from tin….simply store it in the tin and cover with lid!  The cake may touch the lid initially, but as the cake soaks up the glaze it settles into the tin.