Our kitchen has undergone some changes over the years. None of them huge, but sometimes it is little things that can have an impact as your eye travels around the space.
When we bought our house in 1998, the kitchen had pickled oak cabinets, stick-on tile floors, dated wallpaper, band-aid beige trim everywhere, a strangely configured island, and gold Formica countertops. Little by little the kitchen was transformed with paint (twice), patience, time, wonderful helpers, and lots of sweat!
Probably the most costly changes were a few new appliances, flooring, and countertops. Last year we put in wood floors throughout the main level, replacing 3 different wood and laminate floors and carpet! Having the flooring all the same made a world of difference! The countertops are solid surface and were a big improvement, as were the new stainless under-mount sink and faucet.
Some of the smaller projects were a new painted bead board back splash and under-cabinet lighting which I don't know how I managed without it! All the cabinets got a couple of fresh coats of paint, glaze, and new hardware. This was a big family project!
The island, as I said, was the craziest shape I've seen.  I think you can see it in the before picture.  We took the whole thing apart, re-configured it more symmetrically, and added a bookshelf to one side, which gave me a larger workspace when the new top was added.  The island is much more functional now.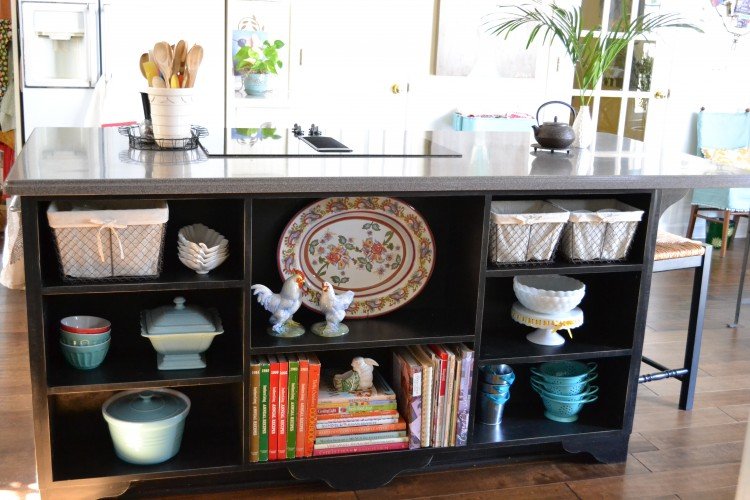 Kevin built the platter rack and the small cabinet and shelves for my milk glass. He also hung a simple chandelier over the table.  The small pantry had a solid bi-fold door which was replaced with a French bi-fold door.  The door to the basement looks nicer with a French door, too.
There are still some projects we need to get to in the future, and we will in time.