My milk glass collection is a favorite of mine, though it is quite small…around 30 pieces.  All of my pieces came from either garage sales, consignment shops, or thrift stores, and it is very affordable!  I really didn't know much about milk glass other than I liked it, so I decided to find out a little more about it.  Here are a few facts that I had not expected.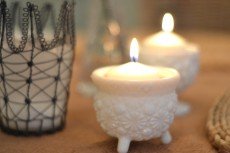 Milk glass has a long history dating as far back as the 16th century in Italy.  Today's average collector is more likely to have pieces produced in the last quarter of the 19th century, the '30 and '40s, or even today.  Today's pieces are both reproductions and original designs.
I didn't realize milk glass isn't always the milky white glass we so often see.  It can be found in yellow, pink, blue, brown, and black.  You can find vases, dinnerware, lamps, covered dishes and other interesting pieces.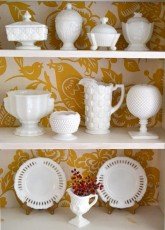 Some of my milk glass is simply displayed in my kitchen in a small cabinet my husband made for me.  Other pieces have been put to work around the house.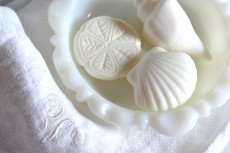 The urn shaped pieces make beautiful homes for peace lilies and fern.  Compotes come in a variety of sizes and heights which makes them very versatile and add interest to a space.  Small dishes and bowls are perfect for soaps,  jewelry, office necessities,  and much more.
It's fun to come up with ways to incorporate milk glass into your home.  By doing so these beautiful pieces of art can serve a dual purpose!