This is my favorite time of year!  The  welcome change in the weather,  the breathe-taking fall colors, and Halloween are some of my biggest reasons for loving it so!
This week I had fun opening my Halloween bin and remembering Halloweens past.  Some of the decorations we made or purchased when our kids were little!
I made the Halloween garland from the pages of a book, orange and black card stock, patterned paper for the folded paper medallions in between each pennant, letters, and copper wire.  You'll need a glue stick and scissors (I used pinking shears).  My inspiration was a pennant I saw in a gift shop several years ago.  It is a quick and easy project!
The little witch is one of my favorites!  I cross-stitched her long ago and made a little pillow.  She's the cutest witch I've ever seen!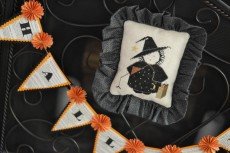 The white plates with the silhouettes of a cat and crow are from this BHG project with templates for cat, crow, skeleton key, and oak leaves with acorns.  I made one of each!  The key is on a tray I covered with scrapbook paper and mod podge.  Love the way they turned out!
It seems every year I pick up a couple more little tin buckets!  I can't resist them!  They are so perfect for those special trick-or-treaters and friends!  Just fill them with lots of little goodies and treats, and trim with ribbon, raffia, and little trinkets!  They look so festive!!  The large buckets with lids belonged to my 3 kids, and I used them year after year!  They still have the original little tags I made for them way back when.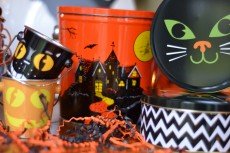 Whatever you do, have fun with it and enjoy this "boo"-tiful time of year!!