We've been busy, busy trying to finish up with the Christmas decorating around here!  This year the theme is "simplicity".  It's been a crazy year with my mom's illness, so simple is just what "this doctor" ordered.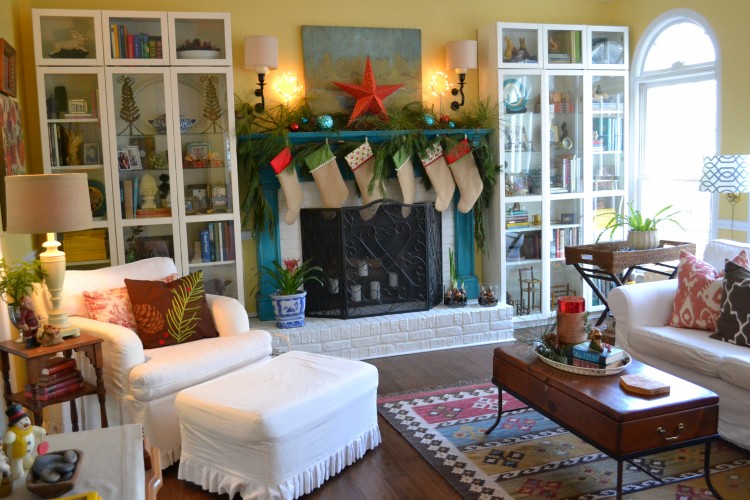 The thing I did that's the most unlike me is I didn't put any ornaments on our Christmas tree.  Don't get me wrong, I love our ornaments!  Each one truly has a story and a memory attached, and unwrapping each one is something I usually look forward to each December.  But, along with the nostalgia comes a good deal of work, taking a couple of days to decorate the tree.  So with some convincing from my husband I made the decision to leave those treasures packed away. I came across the "peace" banner I made last year and decided it may like to live on the tree!  It looked a little lonely, so I quickly made a "joy" and a "love" banner, simply painting the letters onto burlap and adding to twine! Now the three are hanging out together on our silver tip Christmas tree.  I'm lovin' the simplicity!
All of the greenery came from my yard with the exception of a piece of live garland from Costco and a piece over the chalkboard in the kitchen.  Pinecones are everywhere around our house now, so I used lots of those. The nandina bushes are loaded with beautiful clusters of red berries and really add a nice pop of color here, there, and everywhere!  Don't know what I'd do without the pinetrees and magnolia.  Both go a loooong way!  Again, simplicity.
So as you can see nothing too fancy, just simple, and the best thing is the clean-up won't be too bad!  I may add a few more things, and if any of it turns out great I may share some pics on my Homejoy facebook page!  If you haven't checked it out this would be the perfect time! https://www.facebook.com/homejoyblog
Truly wishing you and yours a very Merry Christmas!  ~Debbie