Giving gifts is delightful!  When you make a special effort to personalize the wrapping… well, it's almost like two gifts in one!  Personalizing can be achieved in lots of ways, but my absolute favorite is creating gift tags that make the recipient remember a special time or place.  Photographs are a perfect way to evoke those fond memories!  My family and friends love these tags!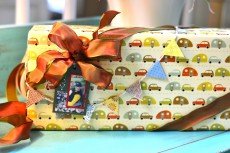 Creating gift tags has endless possibilities!  Make them simple or add embellishments.  Here are some basic supplies and tools to get you started:   cardstock, scrapbook paper, glue stick, scissors, hole punch, ruler, and something to attach the tag to the gift… like baker's twine, ribbon, jute, hemp, etc.  Oh, and of course, photos!!
Some of my favorite tags are just a cropped photo, double matted with scrapbook paper and cardstock.  Punch a hole in the top, add twine, and you're done!  Adding the location, date, age, etc. on one of the back edges is a nice touch, too.
Embellishing is where your imagination takes off!  A few more tools may be needed for this.  Some of things I play around with are a tag maker punch (I use this for simple tags, too.), decorative punches, stickers, die-cuts, glitter, colored pens and markers…the sky's the limit.  A small paper cutter speeds up straight cutting, but a ruler and scissors will do just fine!
Want to add the "cuteness" factor to your gift?  Why not make a paper pennant garland?!  Nothing could be easier!  All you need are four things…yes, 4!  Those being some kind of paper (scrapbook paper, newspaper, wrapping paper, etc.), glue stick, scissors, and string/twine of some sort!
Cut diamonds out of paper in a size that works well with your gift, and fold them in half.  Mine are small because my gift is small.  I cut my diamonds 2" tall, so when I fold them in half they make a 1" triangle.  Next think about where you want to place the garland on your gift.  Take your string and loosely measure, adding extra for the ends , and cut to desired length.  Lay the string out in front of you.  Put glue on the back side of a folded diamond.  (A glue stick works best for me.)   Tuck the diamond under the string so that the string lines up with the fold.  Fold the top of diamond over onto the bottom, keeping the string in the fold, and pinch closed.  It's as simple as that!
Both of these projects, especially the tags, can be made ahead… perfect thing to do on a rainy day!
Next time you need to wrap a gift, try making a special tag!  It's sure to bring a smile to someone's face and conjure up sweet memories!  As for the garland, well, it's just plain cute!