News of a new baby on the way is always a big deal in our family!  Someone in the family, whether it's an aunt, cousins, sisters…someone will plan a big family baby shower!  We love being together, and folks from out of state, out of town, or across town will do their best to attend!
One of my sweet cousin's was expecting a little girl, and I hosted a shower for her.  Here are a few things I did to prepare and decorate for the celebration!
Most of the decorations were made from a variety of coordinating scrapbook paper!  First, I covered large cans from nuts to hold napkins and silverware.  Miniature pennant garlands hung over a framed invitation and white plates already on the dining room wall.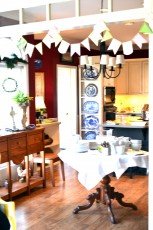 The biggest and most time consuming project was the collage of pleated paper circles which I hung over the mantel.  Boy, did my fingers get tired!  A larger garland hung from the transom between the kitchen and family room.  Solid cardstock was used to cut images and words with my Cricut to give a silhouette effect on the white plates.  This was probably my favorite idea!
I purchased a piece of bold fabric to make a topper for the dining table to liven things up.  Felt made up nicely into little pocket tissue covers for favors.  I cut pink hearts out of felt and glued them onto a corner.  They were super simple and quick!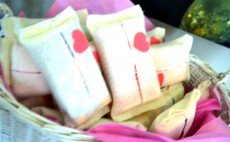 Lunch included taco soup, cornbread, salad, and punch, finishing with gooey butter cakes, Texas sheet cake, and mini strawberry cupcakes with strawberry frosting!  As you may notice, we are all about dessert!
The day was tons of fun and laughs, and I would do it again tomorrow!!