Won't be long and we will be setting our tables, baking pies and cakes, cooking up a storm, and relishing the time we spend with our family and friends!  I love it all!  Here are a few quick and easy ideas to add little special touches to your celebration!
My table centerpiece is super simple!  I simply added small pumpkins, dried hydrangeas from the yard, and baby's breath into a large glass hurricane.  I love the blue of the flowers and the orange and white pumpkins together.  The white turkeys are from Old Time Pottery…aren't they great?!  Then I scattered berries, dried seed pods, a few leaves, and little bronze birds that are place card holders around the hurricane and turkeys.  It's simple, and that's important with so much to do!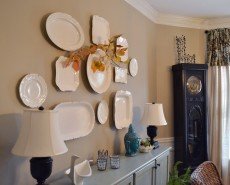 The leaves are still beautiful here, so I clipped some branches, brought them in, and tucked them over plates and frames on the wall.  The branches looked really nice simply standing in an old enamel pitcher, too.  They add so much color and warm up the room.
Teacup flower arrangements are really easy and inexpensive to put together!  Take your favorite teacups and add oasis inside the cups that has been soaked in water.  You will need to cut the oasis to fit with a serrated knife.  Then I added greenery from the garden into the oasis…really fill it up.  I used variegated cuttings from shrubbery, ivy, and clipping from nandina as the greenery.  I also used the berries from nandina.  Using a $4 bouquet from Trader Joe's, I snipped the flowers  to about 4"- 6" in length and added them in amongst the greenery.  I finished them off by tucking a little Spanish moss around the edges.  I do not claim to be a flower arranger, but these teacup arrangements turned out sweet, and they make a nice statement without spending lots.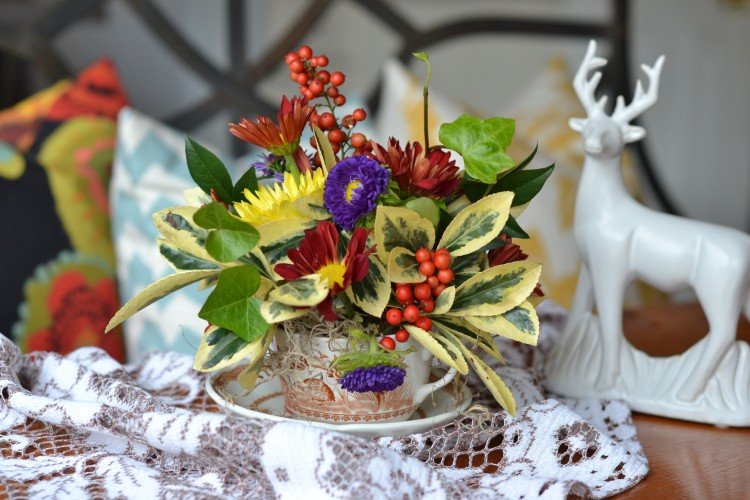 Treats and favors are always a fun touch!  Just take your favorite paper basket, box, or bag and fill it with goodies!  Here I used nuts and maple leaf cookies.  Candies and small trinkets and toys would work as well.  Something else our family loves is pretzel rods covered with candy bark and sprinkles!  There is just something about the sweet and salty combination!  After the candy coating hardened, I bagged the pretzel treats, and tied them with hemp and a cute acorn tag!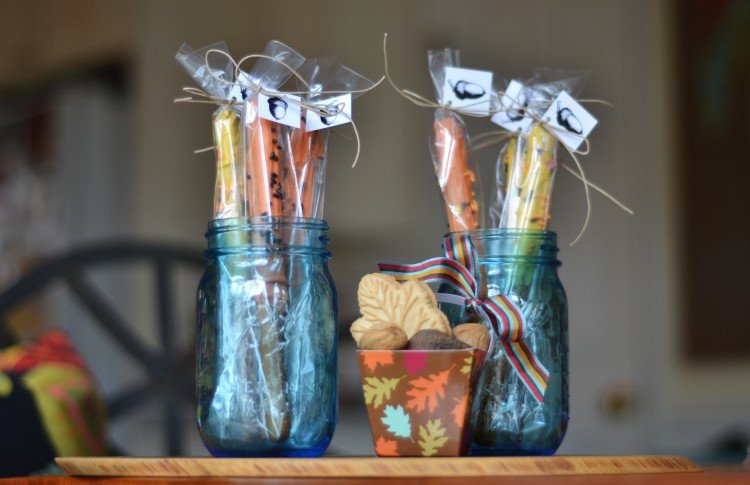 Hope you get even just a little inspiration from these ideas, but most of all I hope you have a wonderful Thanksgiving!